Immunohistochemistry(IHC)
Creative Bioarray offers a comprehensive range of custom immunohistochemistry (IHC) services from screening of IHC-good antibodies to selection of the best tissue sections and IHC detection methods.

Creative Bioarray has established well-tested SOPs in optimizing IHC staining conditions, which include different combinations of various tissue fixation processes, antigen retrieval conditions, antibody titration options, incubation time and washing stringency.
We are professional in both enzyme [alkaline phosphatase and peroxidase] and fluorophore-based IHC visualization methods. Co-localization of multiple antigens by multiplex staining is routinely performed. You can rely on our extensive microscopic imaging experience in capturing the typical staining results into high resolution digital images.
Of note, we are the only company in the international market that provides custom service of screening for IHC-suitable monoclonal antibodies.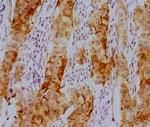 Also, we have unparalleled bioinformatics support in performing IHC studies.
In order to choose the right tissue types in IHC staining, we frequently utilize the mRNA expression profile of a target antigen. The mRNA expression information of most genes is widely available from various public databases, such as http://cgap.nci.nih.gov/Genes. Also,
protein expression profiles from public resources are routinely employed; a good example is Human Protein Atlas at http://www.proteinatlas.org/index.php.
Finally staining tissue sections are manually reviewed and annotated by two staff pathologists in dependently. The terminology and ontology used are in compliance with standards used in pathology and medical science.
In the end, a summary statement for each IHC staining project is prepared. Comprehensive pathology consultation from our experienced staff pathologists is also available upon request.
Importantly, with our proprietary technology, we are able to maximize the staining signals even for antigens with extremely low expression levels. Many researchers have also approached us for our ISH service offerings when they wish to "double-stain" the tissues to simultaneously show both gene and protein expression.
Featured Services:
A. Selection of Antibodies
B. Preparation of Tissue Sections
Mouse tissue slides
Human tissue slides
Tissue arrays
Customer provided tissues
C. IHC Staining Optimization
D. IHC Staining
Comprehensive final report
Brief final report
Don't hesitate to call us at 1-631-624-4882 or email to
info@creative-bioarray.com
for more information. Creative Bioarray is ready and eager to serve you. Because of comprehensive products with excellent quality we are looking forward to making you impressive.